Update 05.09.2023
Aufgaben für Online-Comic Workshops/Kurse
Aufgabe 1: shape of the day
Online-Workshops haben einen anderen Rhythmus als f2f Workshops. Aus diesem Grund sind die TeilnehmerInnen eingeladen, einen ersten (abstrakten) Comic vorab zu kritzeln, zeichnen. Die Idee ist dabei in 10 – 15 Minuten einen abstrakten Comic über einen Tag zu zeichnen – shape of the day. Im folgendem Bild sieht man meine ersten Versuche im Frühling 2016.

Dabei kann der Tagesablauf mit Kästchen strukturiert werden, Linien, Kreise, Punkte eingefügt werden – jedoch wenn möglich soll nichts Konkretes gezeichnet werden, keine Buchstaben oder Zahlen eingefügt und auch keine Farbe verwendet werden. Allerdings kann diese Aufgabenstellung natürlich nach den eigenen Bedürfnissen abgewandelt werden 🙂
Material: Einführung Sousanis – Comics Gallery April – Juli 16
Zum Handout Aufgabe 1 – Nick Sousanis (2015). Comic making exercise.
Aufgabe 2: grids & Beziehungen
Matt Silady's MOOC: Comics: Art in Relationship.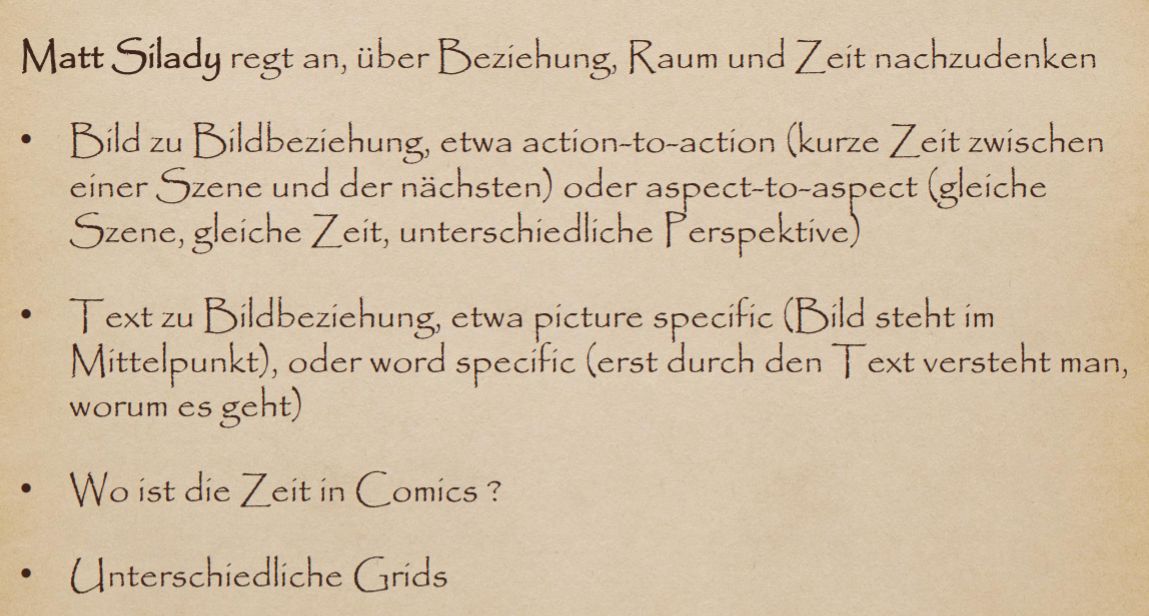 Aufgabe 2: Einen konkreten Comic zeichnen (Zeit im Comic, Grid auswählen, Beziehung von Text und Bild) – Infos zu Grids und Beziehungen zwischen Bildern und Text – about grids and relations (in English)
Material: Comics Gallery August – Dezember 16
COMIC ADVANCED Aufgaben 3&4: Comics in Space & Time

Zu den beiden Aufgaben 3 und 4
Material: Comics in Space & Time
Basis / Background
I started to learn about Comics from Nick Sousanis. – Ausgehend von Nick Sousanis' Comic making exercise begann ich mich mit Comics auseinanderzusetzen – obwohl ich gar nicht zeichnen kann! Sousanis lud auf Twitter ein, dem eigenen Tag mit einem abstrakten Comic Struktur zu geben und ab 11. April 2016 zeichneten folgten viele dieser Einladung, die Ergebnisse sind unter dem hashtag #gridsgestures sichtbar.
And I continued to deepen my involvement with Comics in a MOOC. – Im Herbst 2016 setzte ich mich dann in Matt Silady's MOOC: Comics: Art in Relationship mit der Beziehung zwischen Text und Zeichnung, sowie mit den Comic-Typen und ihrer Erstellung auseinander.
I'm using Comics to reflect, to structure, to strengthen the relationship with students and participants. Comics wurden auf diese Weise Teil meines didaktischen Repertoire.
After two years of drawing and using comic I thought about comics in space and time which also became the title of my advanced comics workshop. 2018 vertiefte ich meine Auseinandersetzung, ich wollte besser verstehen, wie Comics "funktionieren" und was ihr Potential ausmacht. Anhand des Artikels von Priego und Wilkins dachte ich nochmals intensiv über Bedeutung des "Raums" und damit verbunden über die "Zeit" in Comics nach.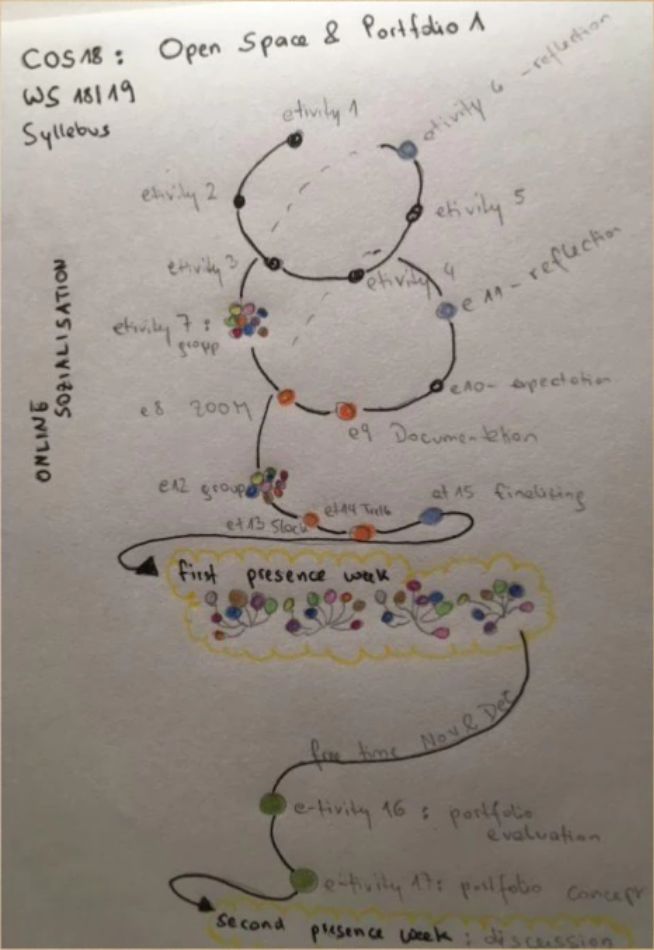 Syllabus – 4 intensive Online Wochen, danach Präsenzwoche, dann eine Pause und im Januar noch zwei Tasks.
Link zum Syllabus von Nick Sousanis.
Literatur & Materials
Sousanis, Nick (2015). Unflattening. Harvard University Press
Nick Sousanis (2015). Comic making exercise. SANE journal: Sequential Art Narrative in Education: Vol. 2: Iss. 1, Article 8.
Nick Sousani (2015): Between Words and Pictures Emerges the Shape of Ideas. Digital Writing Month
Unflattening: text, drawing and alternative perspectives (blogpost of Jenny Mackness)
Matt Silady's MOOC: Comics: Art in Relationship
Priego, E., & Wilkins, P. (2018). The Question Concerning Comics as Technology: Gestell and Grid. The Comics Grid: Journal of Comics Scholarship, 8, 16. DOI: http://doi.org/10.16995/cg.133
Janser-Munro Gerhild, Psonder Tanja (2019): The Application of Non-Fictional Comics in the Classroom. Tagungsband 18. E-Learning Tag der FH JOANNEUM 2019. Seite 47-55
Cohn, N. (2010). The limits of time and transitions: Challenges to theories of sequential image comprehension. Studies in Comics, 1(1), 127-147.
Heger, Anna: Comics und Wissenschaftskommunikation
Pauschenwein, Jutta (2019). Lernorte und Lernmaterialien – Wo und womit möchten wir online lernen? Zeitschrift für Weiterbildung 1/2019, S10-13 – über Online-Kommunikation und Comics
Pauschenwein, Jutta (2019) Mit Comics lernen und lehren. In Weißenböck, Josef / Gruber, Wolfgang / Freisleben-Teutscher, Christian / Haag, Johann (Hg.): "Gelernt wird, was geprüft wird", oder…?! Assessment in der Hochschullehre neu denken: Good Practices – Herausforderungen – Visionen. Beiträge zum 8 Tag der Lehre an der FH St. Pölten am 17. Oktober 2019. St. Pölten, ikon-Verlag, 2019. S155-168
Schrögel, P., & Weitze, M. D. (2018). Comics als visueller Zugang zum transdisziplinären Diskurs über Technikzukünfte. In E. Lettkemann, R. Wilke & H. Knoblauch (Hrsg.) Knowledge in Action, S. 21-48. Springer VS, Wiesbaden. DOI: https://doi.org/10.1007/978-3-658-18337-0_2
Schrögel, P. (2016) Comicworkshop: Technikzukünfte diskutieren. TATuP-Zeitschrift für Technikfolgenabschätzung in Theorie und Praxis, 25(1), S. 55. DOI: https://doi.org/10.14512/tatup.25.1.55
Links
Material für Workshops
Recommended Comics
(from the Comics: Art in Relationship MOOC)
@jupidu