UPDATE 30.05.2022
(Fast) alle schauen Serien. Doch wie kann man dieses Potenzial für die Lehre und das Training nützen? Was hat eine gute Serie mit gutem (Online-) Unterricht zu tun?
Die Idee, sich didaktisch mit der Serie tiefer auseinanderzusetzen, entstand in der Hochschuldidaktischen Weiterbildung im Sommersemester 2020, wo die engagierte Gruppe trotz Pandemie und verpflichtender Online-Lehrtätigkeit immer noch etwas Energie fand, um die Idee der Serie weiterzuspinnen und erste Umsetzungsschritte zu setzen. Der Ideengeber ist Wolfgang Kühnelt, der mittlerweile mit einem Kulturpodcast reüssiert.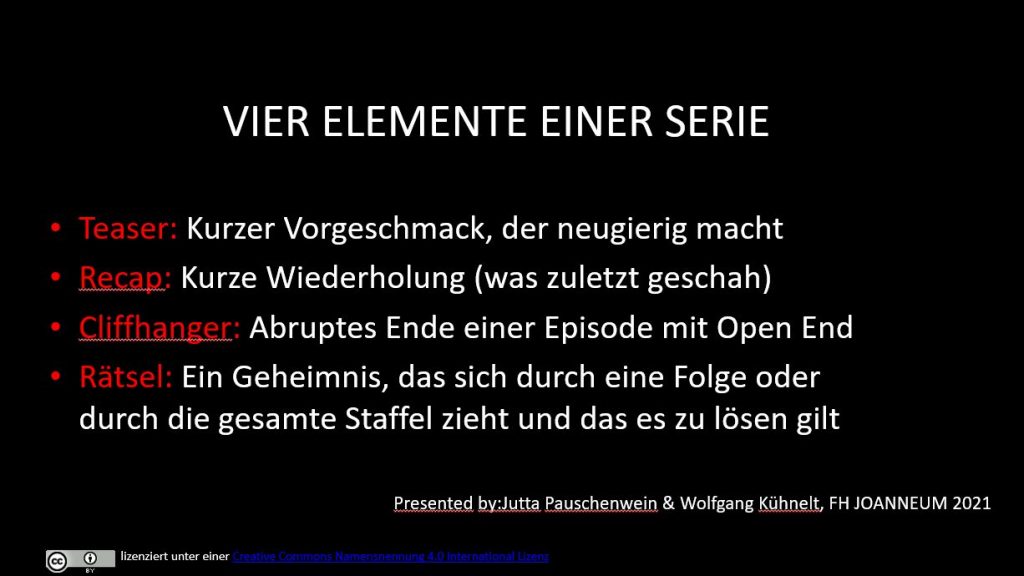 Die Serie der Serienidee im Unterricht und Training
Hier ein Überblick über die Initiativen zur Serie von Kühnelt/Pauschenwein:
Episode 1: Einführungs-Workshop zur Serie im Juli 2020, dieser Workshop wird im Juni 2021 wieder angeboten
Episode 2: Tag der Lehre 2020 an der FH St. Pölten im Oktober 2020
Episode 3: Advanced-Workshop zur Serie im Februar 2021
Episode 4: Icmbeyond21 Online-Tagung, zum Programm, zum Einführungsvideo
Episode 5: noch offen, nicht einmal einen Cliffhanger gibt es …
Doch Kollege Kühnelt und ich machen weiter, sowohl ein Basis-Workshop zur Serie am 14.06. als auch unser full paper auf der Head21-Konferenz liefen unter der Bezeichnung "Season 4".
7th International Conference on Higher Education Advances (HEAd'21), June 22 – 23, 2021 · Virtual conference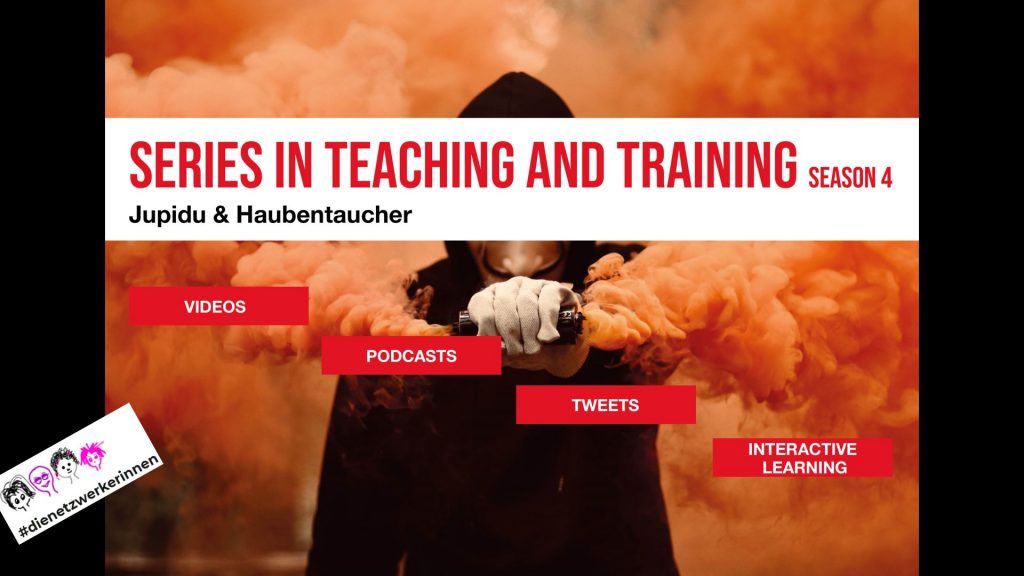 Material
Folien zur Serie (Workshop Mai 2022)
Folien My course is a series, and what is yours? (HEAd'21, Juni 2021)
Folien zur Serie in Unterricht und Training (Workshop Serie Advanced Februar 2021)
Der Einsatz der Serie animiert auch Studierende ihre Arbeiten als "Serie" zu sehen, etwa die Serie Blindfacts von Gimplinger, Student JPR20
Pauschenwein Jutta, Kühnelt Wolfgang (2020). Das Format der Serie im Unterricht und im Training. In Weißenböck, Josef / Gruber, Wolfgang / Freisleben-Teutscher, Christian (Hg.): "Digital Learning in Zeiten von Corona – nachhaltiger Entwicklungsschub für die Hochschulen? Beiträge zum 9. Tag der Lehre an der FH St. Pölten am 22. Oktober 2020. St. Pölten, Lemberger Publishing, 2020. S. 141 – 152
Pauschenwein Jutta & Kühnelt Wolfgang (2021). Wir produzieren eine Serie. In: Buchner, J., Freisleben-Teutscher, C. F., Neiske, I., & Morisse, K. (Eds.). (2022). Inverted Classroom and beyond 2021: 10 Jahre# icmbeyond. BoD–Books on Demand. S. 98-107
Pauschenwein, Jutta; Kühnelt, Wolfgang & Podhovnik, Edith (2021). My course is a series, and what is yours? In Domenech, Josep; Merello, Paloma & de la Poza, Elena: (Hg.) proceedings of the 7th International Conference on Higher Education Advances (HEAd'21), p 1393-1400 DOI: http://dx.doi.org/10.4995/HEAd21.2021.13019  .
Links und Hinweise der Workshop-Teilnehmer*innen