Update 06.06.2023
Das Thema Motivation beschäftigt Lehrende, möchten sie doch das Engagement der Studierenden fördern und so zur Festigung des Gelernten beitragen.
Wie kann ich zur Motivation meiner Studierenden beitragen?
Mit engagierten, neugierigen Studierenden können wir als Lehrende gut arbeiten. Doch wenn parallel zur Lehrveranstaltung spannende Projekte laufen, das Thema möglicherweise nicht im Zentrum der Disziplin ist oder die Ablenkungen außerhalb des Studiums die Aufmerksamkeit der Studierenden auf sich ziehen, wird das Unterrichten mühsam. Wie können Lehrende Einfluss auf die Motivation der Studierenden nehmen?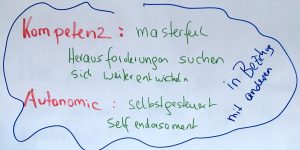 Selbstbestimmungstheorie & Nudgen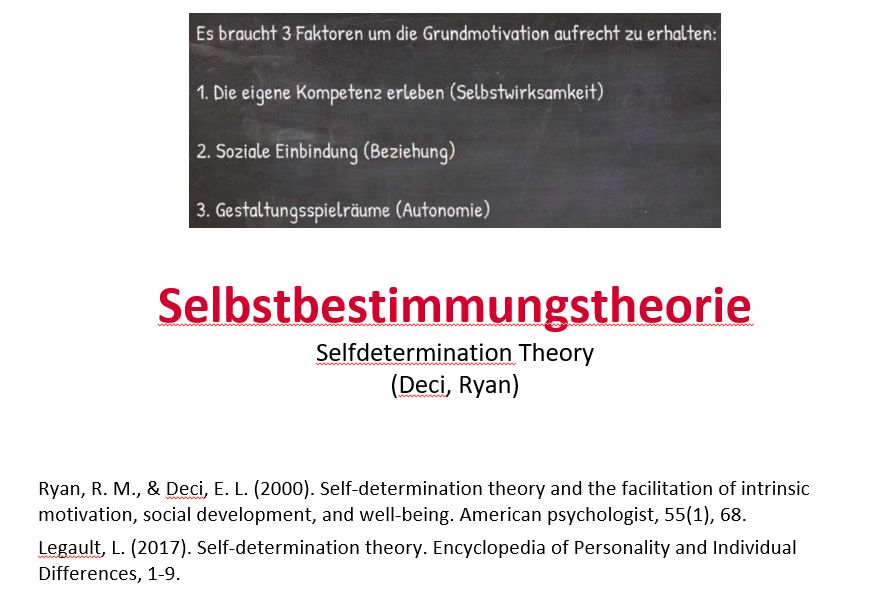 Nach der Selbstbestimmungstheorie – Selfdetermination Theory (Deci & Ryan, 2004) gibt es drei Grundbedürfnisse in Menschen, die, wenn sie erfüllt sind, Weiterentwicklung ermöglichen. Diese sind – Competence, Relatedness und Autonomy. Studierende möchten ihre eigene Kompetenz erleben (Selbstwirksamkeit), sozial eingebunden sein (Beziehung) und über Gestaltungsspielräume verfügen (Autonomie) (Braun, 2018). Bei der High Not Veranstaltung an der Universität Graz sprach Gerhard Furtmüller (2019) über kleine "Awards" zur Motivationssteigerung, da zu viel an extrinsischer Motivation die intrinsische Motivation zum Schwinden bringt (Garaus et al., 2016).
Nach Legault, L. (2017) bilden die folgenden Minitheorien die Basis der Selbstbestimmungstheorie.
Cognitive Evaluation Theory (CET)
Organismic Integration Theory (OIT)
Causality Orientation Theory (COT)
Basic Psychological Need Theory (BPNT)
Goal Content Theory (GCT)
Relationship Motivation Theory (RMT).
Die Wunderkammer
In einer Wunderkammer gibt es die folgenden Kernprinzipien (nach dem Artikel von Charlton et al, 2018):
Engagement durch Neugier,
Motivation durch Erforschung und
Eigentümerschaft durch Zweck und Bedeutung.
Link zum Artikel Die Wunderkammer-Metapher , Literatur siehe weiter unten.
Literature and Links
Charlton, P., Koumpis, A., Kouroupetroglou, C., & Grenon, M. (2018). Wunderkammers: Powerful Metaphors for 'Tangible'Experiential Knowledge Building. Multimodal Technologies and Interaction, 2(3), 34.
Folien: Wie kann ich zur Motivation meiner Studierenden beitragen? (2023)
Legault, L. (2017). Self-determination theory. Encyclopedia of Personality and Individual Differences, 1-9.
Ryan, R. M., & Deci, E. L. (2000). Self-determination theory and the facilitation of intrinsic motivation, social development, and well-being. American psychologist, 55(1), 68.
Vansteenkiste, M., Simons, J., Lens,W., Sheldon, K. M., & Deci, E. L. (2004). Motivating learning, performance, and persistence: The synergistic role of intrinsic goals and autonomy-support. Journal of Personality and Social Psychology, 87, 246–260.
Weinstein, N., Przybylski, A. K., & Ryan, R. M. (2012). The index of autonomous functioning: Development of a scale of human autonomy. Journal of Research in Personality, 46(4), 397–413.
Pauschenwein Jutta (2019): Identität, lernen, netzwerken – Blogpost – Identität und Wachstum/Entwicklung haben immer auch mit Motivation zu tun.