Die Auseinandersetzung mit den Comics und ihrem Einsatz in der Lehre entwickelt sich weiter. Mittlerweile mache ich sogar einen herkömmlichen Zeichenkurs und lerne wirklich spannende Dinge dabei. Ich würde so gerne meinen Strichmännchen und Strichfräulein ein bisschen Individualität einhauchen. Doch davon ein anderes Mal.

Inhaltlich ließen wir uns im Workshop für die erste Übung wieder von Nick Sousanis inspirieren:

Observe some architectural composition around you – a building, windows, a street layout, floor tilings, a dresser, the dashboard of a car, whatever – find one you are inspired by, take a picture of it, then make a single comics page based on the composition of the actual architecture.
Ergebnisse der Workshop-Gruppe vom 12.2.2019 sind in folgendem Bild dargestellt – danke an die Gruppe, dass ich die Zeichnungen für diesen Post verwenden darf. Die Zeichenübung gab uns einen guten Einstieg in die Auseinandersetzung mit Raum in Comics nach Priego und Wilkins (2018).

Im zweiten Teil des Workshops ging es um Zeit in Comics, die TeilnehmerInnen wurden eingeladen einen Syllabus, eine WS-Struktur oder eine Abfolge von Tasks zu zeichnen. Die Inspiration dazu kam wieder von Sousanis, die Syllabi seiner LVs Comics&Culture und Making Comics gefallen mir. Mit unterschiedlichen Details macht er auch sichtbar, welchen Umgang er mit seinen Studierenden pflegt.
We will study and we will play – and we will see that those activities aren't so different.

Come see me – ask questions, talk comics – help me get to know you.

Sousanis, Syllabus Comics & Culture
Ich war beeindruckt, wie gut die WS-TeilnehmerInnen mit dieser Aufgabenstellung umgingen und einfach einen Syllabus in Comic-Form erstellten.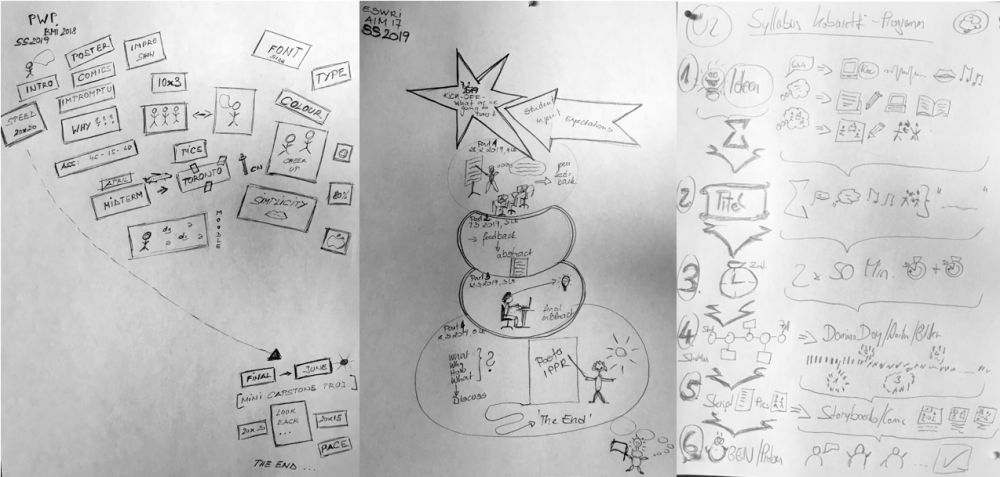 Im Juli 2019 gibt es den nächsten Comic-Workshop.
Informationen zu den Comics, Folien, Materialien finden sich hier im Blog.
Priego, E., & Wilkins, P. (2018). The Question Concerning Comics as Technology: Gestell and Grid. The Comics Grid: Journal of Comics Scholarship, 8, 16. DOI: http://doi.org/10.16995/cg.133