UPDATE 2.11.2018
Seit 2012 setze ich mich mit den Footprints of Emergence auseinander, die eine tiefe Reflexion von Lerndesigns, Lernerfahrungen, Kooperationen, … ermöglichen.
Jenny Mackness, eine der ErfinderInnen der Footprints meinte 2018 in einem Gespräch:
The Footprints are a tool to surface emergent learning – make what is implicit explicit. Bring to the surface what was hidden.
Gemeinsam mit meinen Kolleginnen Gudrun Reimerth und Erika Pernold übersetzten wir 2012 die Faktoren und Cluster ins Deutsche.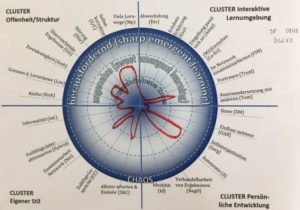 In den nächsten Jahren setzten wir uns mit den Theorien "hinter" den Footprints auseinander, wandten sie  als Reflexionsmethode in unterschiedlichen Fällen an:
Reflexion des Lehrdesigns – am besten vor dem Unterricht/Training und danach
Reflexion eigener Lernprozesse
Reflexion einer Kooperation (etwa beim gemeinsamen Schreiben eines Artikels, oder im Team)
Persönliche Reflexion – möglich ist alles – etwa während einer langen Reise
Im Lauf dieser Auseinandersetzung kam es immer wieder zu Feinadjustierungen der Faktoren – und zur Veränderung der grafischen Vorlage.
Gerade haben wir eine vereinfachte Version für Studierende entwickelt. Sie eignet sich auch für Lehrende 😉